What a gorgeous weekend it was in Halifax! I made sure to spend lots of time outside; did you?
1. Why we don't walk anymore. Gosh, I've been reading a lot about our evolutionary trends / food & diet / health lately, and I've really been enjoying Mark Sisson's blog. Check out his post on the average number of steps we take per day, and how many more we really should be taking. Hint: it's not that hard, but it does require some effort.
(PS: Did I mention that the weather has been nice in Halifax? Really, there are no excuses to not get out and use those two feet and a heartbeat!)
2. This comic = my life. Thanks to  a reader who pointed me to this comic. It pretty much justifies my abundant energy for new (to me) exciting things. I like to think that we all have these moments in our own ways every day. (Riiiight?)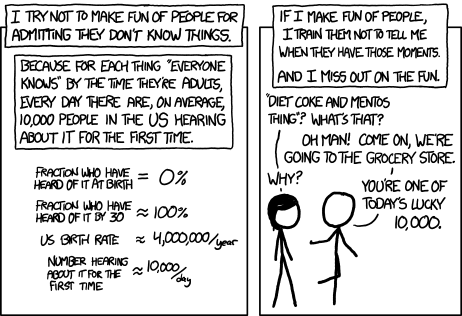 3. SNL's 100th Digital Short. It's time to celebrate! You'll have to watch the clip to see how the boys decided to celebrate though. If you like any of the following, you'll enjoy Saturday night's 100th digital short: Justin Bieber, Shy Ronnie, Natalie Portman, Will Ferrell, Justin Timberlake, musicals, Andy Samberg, John Hamm as "Sergio", and just general silliness. It was awesome.
4. Roasted Red Peppers. They don't just have to come from a jar, folks. I eat a ton of red peppers, as they are one of the few veggies I am able to eat (another story for another time), and I love roasted red peppers. It's about time I learned how to do it on the cheap. So, after a few youtube videos and some googling, I decided to roast my own. Try it! It's super easy, and delicious. Pro tip – Once your peppers are out of the oven, move them to a tupperware and seal until cooled. The steaming will help the skins peel off easy-peasy.
This is a long video, but I liked his method:
5. This wine chilling tip rocks.